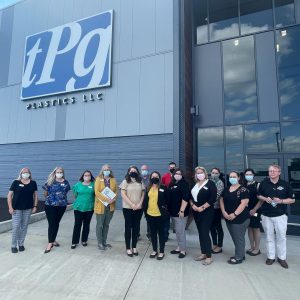 LIFT Participants are pictured outside of TPG Plastics alongside members of the TPG executive team. Participants pictured are (left to right): Rhonda Wicker, Gifted Education CC Schools; Erica Gray, CCHS Chemistry; Ashley Fritsche, CCHS Business; Amanda Tipton, MMS Science; Shelley Stubblefield, MMS 4th & 5th Assistant Principal; Mechelle Morgan, MISD Director of Instructional Technology; Hannah Stark, MES Kindergarten; Robyn Darnell, North Calloway 1st Grade; Kaysin Higgins, North Calloway 1st Grade; Lauren Hines, MHS Spanish & Social Studies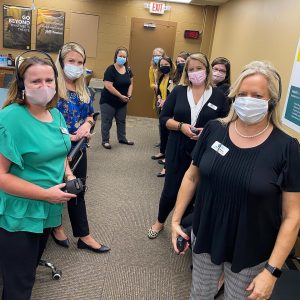 LIFT Participants are pictured inside Pella Corporation - Murray Operations, prior to going on a tour of the plant. 
The Murray-Calloway County Chamber of Commerce launched their inaugural Leadership Initiative for Teachers (LIFT) program this week. LIFT is a workforce initiative of the Murray-Calloway County Chamber of Commerce and is designed to spark innovative thinking and discussions between our community educators and business leaders.
The inaugural LIFT class includes 10 participants representing both Calloway County and Murray Independent School Districts, 6 schools in total, 2 school administrators and 7 areas of expertise.
The program launched on Thursday, September 2nd with Ken Jewell of Bridges Family Center. Jewell led participants through personality assessments and team building activities. Participants where were given mock scenarios relating to community development efforts and used problem-solving techniques to present a multitude of family-friendly ideas for the community.
LIFT participants then travelled to Murray State University School of Engineering to meet with Dr. Danny Claiborne, Director, for an overview of the programs offered in the STEM fields. Dr. Claiborne gave LIFT educators a "wish list" of skills he hopes students will come to college with including: good study habits, punctuality and perseverance.
The Murray Bank hosted the LIFT class for lunch and gave an overview of careers in the banking industry. Team members from The Murray Bank emphasized the importance of building relationships, being able to multi-task and having a positive attitude.
"If I could give you one piece of advice it would be to have your students practice public speaking," said Shawn Reynolds, Vice President, Loan Officer. "Giving your students the ability to practice public speaking in front of the people they feel comfortable with will give them such a leg up in the long run."
Both Pella Corporation of Murray and TPG Plastics, LLC gave LIFT participants a warm welcome and tours of their plants. Team members from each facility sat down with the group and provided an overview of the multitude of careers in manufacturing. Participants were able to ask questions regarding career pathways and gained insight as to the effects of natural disasters on manufacturing on both a local and international level.
"Helping your students build their resume would be extremely beneficial for us," said Launa Ferguson, HR Representative at Pella. "Even if they don't have a 'real' job, let your students know that their experience matters – babysitting shows me an applicant is trustworthy, working on cars with their dad shows me they know how to use tools, mowing yards shows me they are willing to put in the work, etc."
The class ended the day with Mark Manning, President of the Murray-Calloway County Economic Development Corporation. Manning highlighted the importance of our local school systems when it comes to his ability to recruit manufacturers to our community.
The LIFT program will resume on Tuesday, September 14th with a session focusing on community organizations and resources available to families.