Contact the Chamber Staff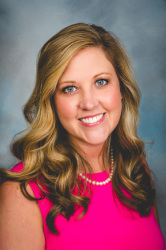 Michelle Bundren
President/CEO
270-753-5171
michelle@mymurray.com
Michelle has over five years of experience in the Chamber industry combined with a background in business management, retailing and corporate structure. She is the first female president/CEO of our organization and helped bring home ACCE's 2019 National Chamber of the Year award. Michelle is a graduate of Murray State University with a degree in Public Relations and Marketing, and a graduate of the U.S. Chamber of Commerce Foundation four-year Institute of Organization Management program. She is a member of the 2019 Leadership Kentucky program and 2016 graduate of the Leadership Murray program. Michelle has been married for over 15 years to a fellow Murray State graduate, and has three children.  When it's time to unwind, you will find her traveling, enjoying a concert or musical, singing and spending quality time with friends and family.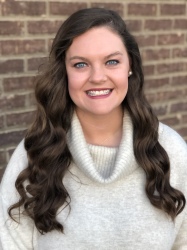 Hailey Anderson
Director of Membership Development
270-753-5171
hailey@mymurray.com
Hailey joined The Chamber staff in February 2019. She is a Calloway County native and a proud graduate of Murray State University where she earned her bachelor's degree in Public Relations and Marketing. Her professional background includes nonprofit communications, hospital marketing and event planning. Hailey serves on the Murray State Young Alumni Council, Community Education Council, and Calloway County Census Committee. Additionally, she volunteers with Junior Achievement of Western Kentucky and is an advisor for Alpha Sigma Alpha Sorority. Outside the office, you will most likely find Hailey spending quality time with friends and family, soaking in the sunshine on Kentucky Lake and playing lots of fetch with her puppy, Wilson.
Contact Hailey About:
Chamber Membership, Ribbon Cuttings, Young Professionals of Murray, Sponsorship Opportunities, Chamber Ambassadors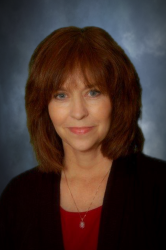 Cindy Chrisman
Administrative Assistant
270-753-5171
cindy@mymurray.com
Cindy has been employed with the chamber for 10 years, and considers it to be one of the most rewarding jobs one could have.  She has been a Murray resident for 53 years where she attended the city schools, Murray State University, and raised her family.  A retired photographer of 30 years, she is currently a board member of the Murray Art Guild, on the city's Beautification Committee, and a member of the Certified Emergency Response Team.  She is a wife, mother, and grandmother of six, so her life outside the chamber is non-stop, but feels blessed for every minute! She is excited as to what the future holds for her beloved town, and is proud the chamber is doing its part in moving Murray to bigger and better things.
Contact Cindy About:
Rent List, Community Event Calendar, Relocation and Jobs, Event Registration, Go Local Campaign