The Chamber celebrates Women in Business from owners and managers to staff members by hosting a Women in Business Luncheon each year.
WHY ATTEND?
The Chamber of Commerce staff & Board of Directors truly believe that empowered women, empower other women. Our Annual Women in Business Luncheon is designed to support, develop and connect female business professionals in our community. This event allows attendees to build relationships with fellow professional women, update their professional headshots (thanks to Bailey and B Photography!), hear from a motivational keynote speaker, and eat a delicious lunch!
WHO IS SPEAKING?
We are excited to have a panel of local women who have made a significant impact in their industries and in our community. Join us as we hear from:
Sharon Furches - Furches Farms & Kentucky Farm Bureau Board of Directors
Kathy Kopperud - Kopperud Realty
Jennifer Stubblefield - Retired Educator, Entrepreneur & Leadership Trainer
SPONSORSHIPS & INDIVIDUAL TICKETS AVAILABLE
Empowerment Sponsor
$850 (Multiple Available)
Table Sponsor
$500 (Multiple Available)
Individual Tickets
$40 members; $50 non-members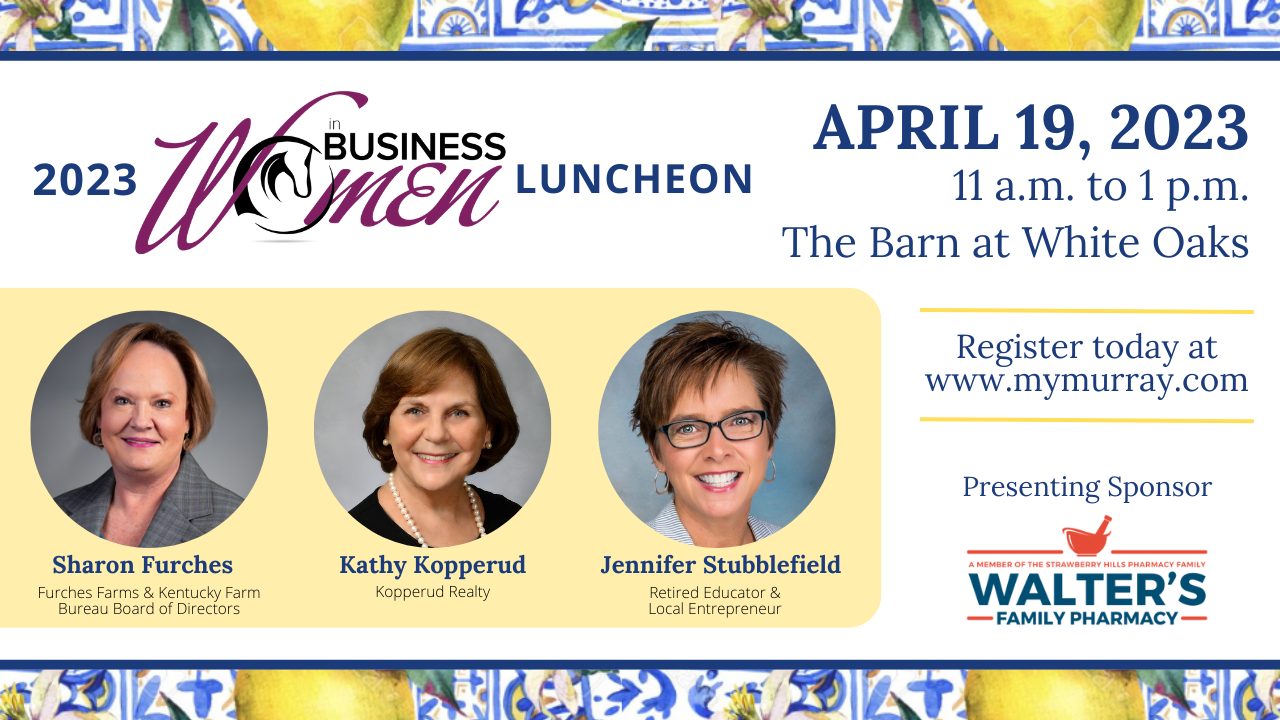 Women in Business Award Recipients
2015 - Betsy Flynn, CFSB
2016 - Jennifer Stubblefield, CCHS Business Teacher
2017 - Lisa Cope, Playhouse in the Park
2018 - Kellie Harlan, Shaffer Coffee Co.
2019 - Sharon Furches, Furches Family Farms
2021 - Whitney Cooper, Flowers by Whitney
2022 - Sally Hopkins, FNB Bank