The Chamber's largest annual fundraising event & business community celebration gathers members of the Murray-Calloway County Chamber of Commerce for an evening of networking, celebration, and vision for the future. The event will celebrate the Chamber's 94th Anniversary. Sponsors enjoy excellent visibility to the largest and most distinguished audience of the year. This event serves as the members' annual meeting and is held at The Barn at White Oaks Event Center.
The 2021 Annual Business Celebration, presented by CFSB, will be held on Friday, October 15, 2021, at the Barn at White Oaks.
Date and Time
Friday Oct 15, 2021
5:30 PM - 9:00 PM CDT
Registration & Bar (TBD) opens at 5:30pm
Introduction & Dinner begin at 6:30pm
Program runs from 7:30-8:30pm
Location
The Barn at White Oaks
675 Grant Road
Murray, Kentucky
Fees/Admission
Individual tickets are non-reserved seats at $85 per person ($100 per person non-member rate).  Table Sponsor is a reserved table with seating for eight (8) guests at $950 which includes the reserved tickets and promotion at the event. You must contact Hailey Anderson to purchase a Table Sponsorship at 270-753-5171 or hailey@mymurray.com.
Must pay with credit card online at time of registration. For questions, contact Hailey Anderson. Payment is due at the time of checkout via credit card.
**If your company does not allow payment by credit card, please contact a staff member to be registered and invoiced. Payment is due prior to the event.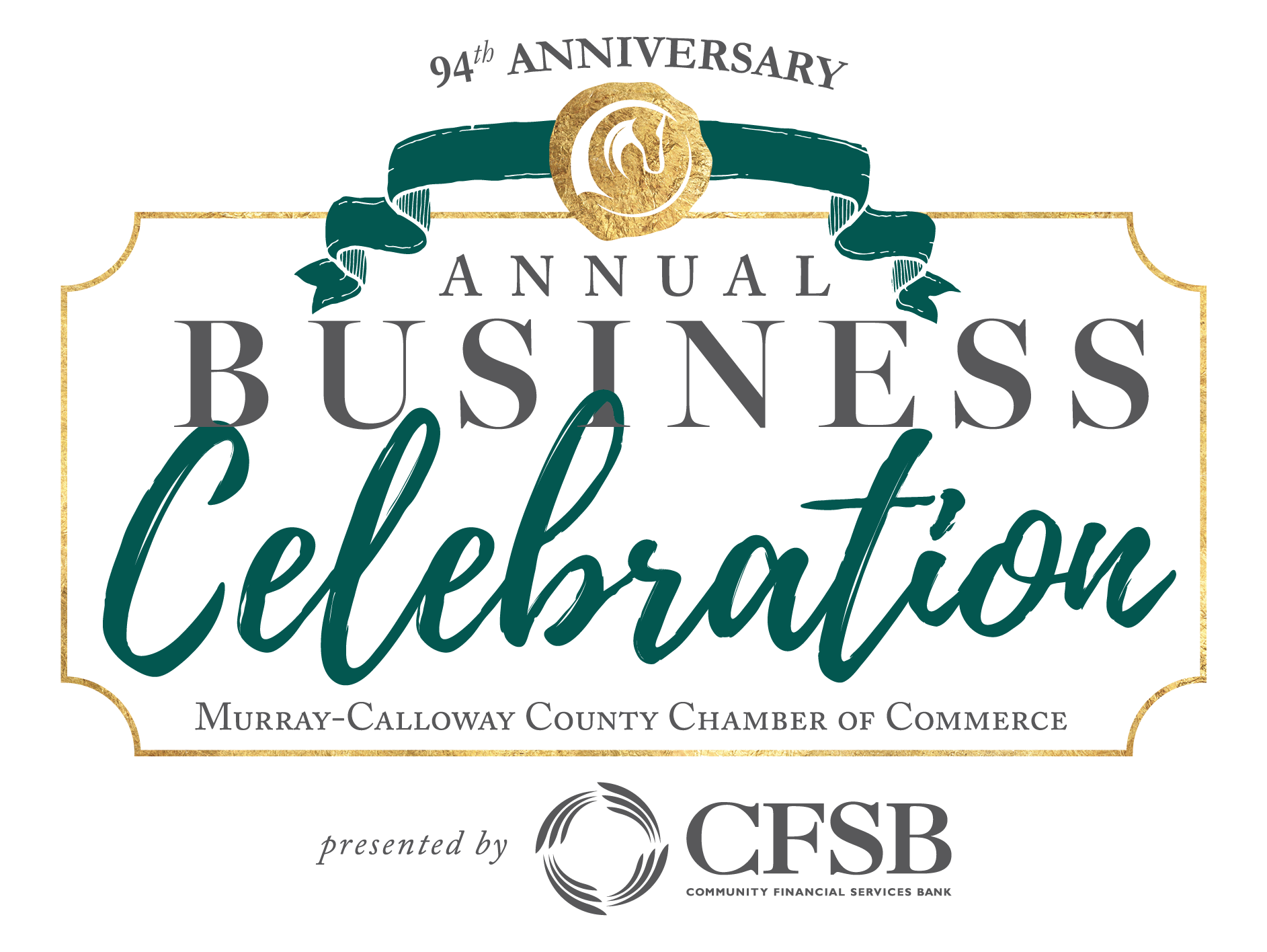 Hailey Anderson, Director of Membership Development
hailey@mymurray.com
270.753-5171
Awards to be given:
Business of the Year
​Chair's Award
Citizen of the Year
Agriculturalist of the Year
Emerging Business of the Year
Non-Profit of the Year
Women In Business Award
Young Professional of the Year
2019 Citizen of the Year
2019 Business of the Year
Industrial Training Services, Inc.
2019 Emerging Business of the Year
Artisan Kitchen of Murray
2019 Woman In Business of the Year
2019 Young Professional of the Year
2019 Nonprofit of the Year
2019 Agricultural Business of the Year
2019 Chair's Award