"Teaching is the one profession that creates all other professions."
How LIFT Benefits Our Classrooms
Our students can only dream as big as they can see. As an educator, you are uniquely positioned to engage students in conversations about their future careers. LIFT provides educators with externship experiences where they are able to see first-hand, the technical and social skills their students may need for their desired workplace.
Program Goals:
Bridge the gap between education and workforce through experiential learning.
Expose educators to the true needs of our community's industry and business partners in relation to career pathways.
Establish relationships with fellow educators and industry leaders – creating a resource base for educators to implement innovating teaching strategies into their classrooms.
If accepted into LIFT, the program fee is $750. We are asking local businesses to sponsor a teacher so the program will be at no cost to participants. The number of sponsorships received will determine how many applicants will be selected to participate in the program.
Externship Days & Attendance
Externship days will be held on the following dates:
Day 1 - July 11
Day 2 - August 23
Day 3 - September 13
Day 4 - October 13
Graduation - November 15
Attendance on all program dates is mandatory to be considered for the LIFT program. Days 1-4 will be held from 7:30 a.m. to 4:30 p.m. Day 5 will end by 11 a.m. Note: All dates have been approved by both school systems and have agreed to make Day 1 count as a PD day.
If you know that you cannot attend the externship session on any of these dates, please consider holding your application for a future LIFT class when you can be fully committed.
To learn more about LIFT, please contact Hailey Harrison at hailey@mymurray.com or call the Chamber office at (270) 753-5171.
2022 Leadership Initiative for Teachers Program Application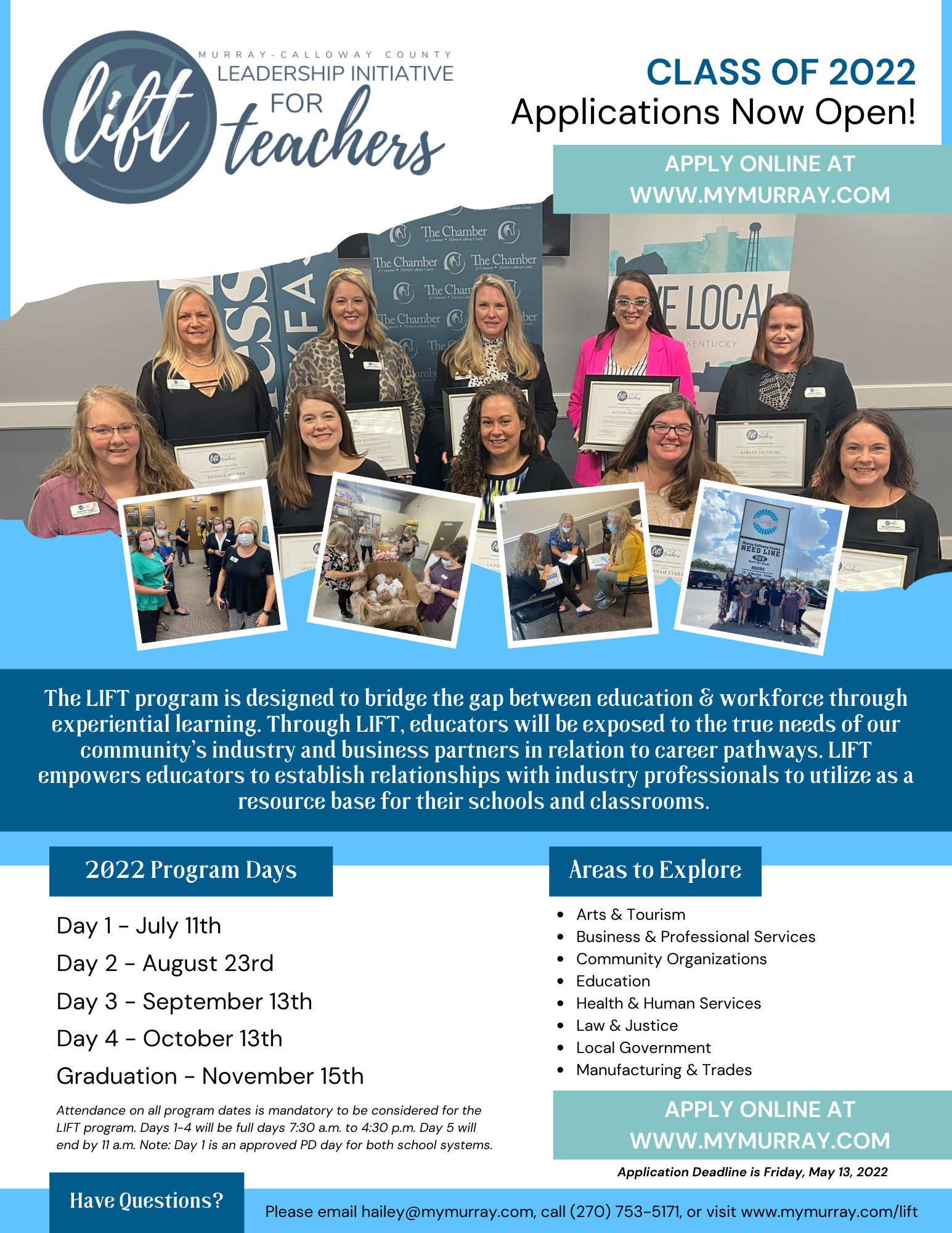 Program Requirements & Schedule
Areas to Explore:
Arts & Tourism
Business & Professional Services
Community Organizations
Education
Health & Human Services
Law & Justice
Local Government
Manufacturing & Trades