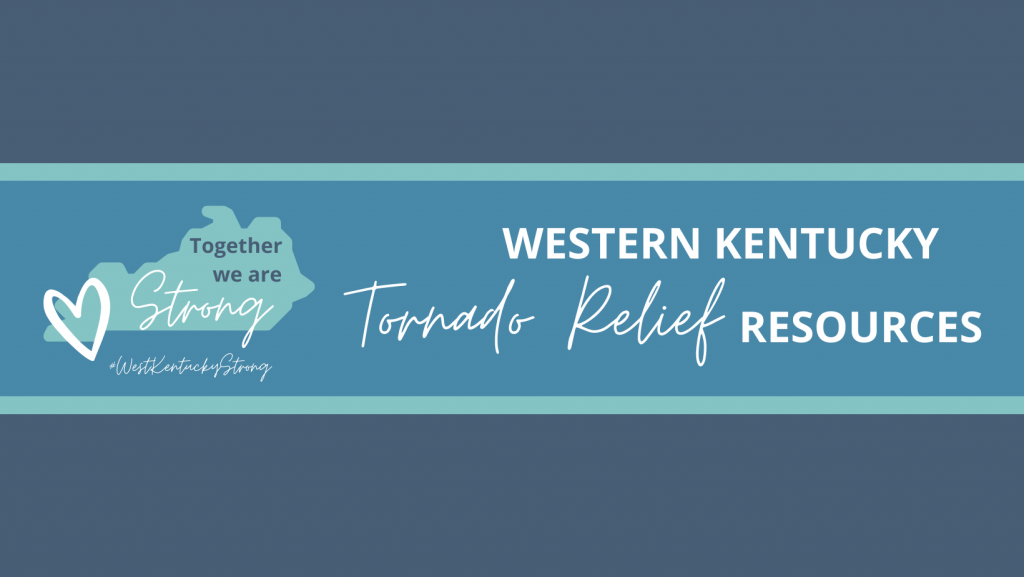 Updated: 1/3/22 at 10:20 a.m.
Mayfield-Graves County Tornado Relief Efforts
The Mayfield-Graves County community has created their own disaster response website. Please visit the site below for specific relief efforts for Mayfield-Graves County and for information on how to sign up to volunteer as a individual or as a group.
The Small Business Administration (SBA) has low-interest disaster loans up to $2 million available to businesses and residents impacted by the storms. Click here for more details, counties impacted and how to apply.
The SBA opened a Business Recovery Center (BRC) at the Joe Creason Community Center in Benton to provide oNe-on-one assistance in submitting a disaster loan application. The Center is open Monday - Friday, 9 a.m. – 6 p.m. Learn more here.
If you lost your job or business because of the December 10th tornados - the deadline to apply for Disaster Unemployment Assistance is January 18th. You can file a claim for traditional unemployment anytime. But to receive DUA, you must file by January 18th.
The U.S. Chamber is available to provide support for businesses for disaster recovery efforts. Businesses can call 1-888-My-Biz-Help (888-692-4943).
The Kentucky Career Center homepage has additional details for individuals who became unemployed or those who are self-employed and had work interrupted as a direct result of the severe storms and tornadoes.
Mayfield Graves Co. Tornado Relief Fund - take to Independence Bank locations

Mayfield Graves Co. Tornado Relief Fund

, P.O. Box 9 Fancy Farm, KY 42039 (Fund board members include Graves Co. Judge Executive Jesse Perry, Mayfield Mayor Kathy O'Nan, Sheriff Jon Hayden and Independence Bank Graves Co. President Darvin Towery)

Kentucky Small Business Association (SBA) Disaster Loan Assistance Details: Severe Storms, Straight-line Winds, Flooding, and Tornadoes
Give financially at www.givejourney.com and choose the Tornado Relief Fund. All gifts will be used to assist those impacted by the storm. Also partnering with Eight Days of Hope to volunteer.

Purpose Church Murray is 

partnering with Relevant Church to raise money to help those affected by the tornadoes. Give here - https://wearerelevant.churchcenter.com/giving/to/mayfield-tornado-relief

Hardin Baptist Church - Donation & Volunteer Information

Delta Regional Authority's Delta Leadership Network has partnered with Feeding America to raise money that will put food immediately in the hands of those who need it most, without worry of financial burden.

Feeding America will track donations and share them with local food networks in Arkansas, Illinois, Kentucky, Missouri and Tennessee. 

Donate to the Community Foundation of West Kentucky
Kentucky Colonels Western Kentucky Disaster Relief Challenge

Kentucky Red Cross

Donate online here; Text REDCROSS to 90999 to give $10 to American Red Cross Disaster Relief; to donate by phone via credit card or to ask questions about donating money to the Red Cross, please call 1-800-HELP NOW (1-800-435-7669)

Salvation Army

is accepting monetary donations at http://give.helpsalvationarmy.org. The Salvation Army uses 100% of all disaster donations to support disaster relief.

The Murray Bank - accepting toy and monetary donations all all The Murray Bank locations
FNB Bank - accepting monetary donations at all physical banking centers. All donations will be given to local non-profits assisting the recovery efforts. Donations can also be made by calling our customer contact center at 1 (888) 934-2536 or by mailing a check to PO Box 369, Mayfield, KY 42066.
Mayfield Independent Schools & Graves County Schools have opened a Tornado Relief Fund account with CFSB where monetary donations can be made and will assist the students and families of Mayfield Schools directly affected by the severe weather that impacted the community over the weekend. Anyone wishing to make a donation can do so in person at any CFSB Banking Center or by calling our team at 888-226-5669.
Calloway County Schools are holding a donation drive on Thursday, December 16th. They also have an online monetary donation link through the "Angel Fund" - please type "tornado" in the note. Online donations are accepted through Sunday, December 19th. https://simplepay.basysiqpro.com/?id=5f8f491f4f32f000172963f4&fbclid=IwAR0Nx6eqCnsH_71VAdGxaucvsM0QlRqjp4kLQpMkWlrxFCAizolrZH3_JIY
Murray-Calloway County Community Foundation has created a Matching Fund for West KY Tornado Relief. All donations will be matched 1:1 until they met their $76,000 goal. 100% of funds donated will go to nonprofits serving West KY communities for tornado relief.
Kentuckians for the Commonwealth
WPSD Local 6 has a thorough list of resources, needs, etc. Find that list here.
In Mayfield:
Fairgrounds 9am - 4pm

Delivery address: 400 Opportunity Way, Mayfield KY 42066. This building is next door to Hoskins BBQ.
We are not accepting any type of used clothing.
Gift Cards (Mail to the Graves County Health Department, 416 Central Ave., Mayfield KY 42066)
In Marshall County:
Small Vehicle Donations: 304 East 4th Street, Benton, Ky 42025.
Large Vehicle Donations: 1003 Poplar Street, Benton, Ky 42025
Marshall County - God's Promises | 1300 Main Street | 270-527-9696
Kenlake Lodge - Now taking reservations at no charge for anyone that has been displaced from their home due to the tornado. For those needing to make a reservation you can call Kenlake State Resort Park at 270-474-2211.

Wesley Living of Murray - one housing unit available, 1BD facility, partly furnished, 62 years of age or older, income must be less that $21,100 annually. Contact (270) 753-7735 for additional information.

Sportsman's Lodge (between Benton and Aurora) is open for accommodating those who have been displaced, as well as opening up their marina area to serve Hunt's Brothers pizza.  The contact is Natalie, and the number is 270-994-2083.
Kentucky Dam Village - 270-362-4271
Kenlake State Resort Park - 270-474-2211
Emergency Housing for Displaced Pets
Ceglinski Animal Clinic - 270-554-0171
Eight Days of Hope

Eight Days of Hope will be deploying to Mayfield, KY to serve those impacted by the deadly tornado. The dates for this event will be split into two weeks.

The second week will be Tuesday, December 28 until Saturday, January 8. Breakfast on Tuesday, December 28 will be the first meal of the second week. Tuesday, December 28 is also the first work day of Week 2.

We will be staying at Hardin Baptist Church, 6867 US-641, Hardin, KY 42048. All volunteers must be 18+ to serve on our Rapid Response trips.

Mayfield-Graves County Fairgrounds needs hands-on volunteers. Please call the hotline at (270) 727-5114

Volunteers are needed at Kentucky State Parks from Christmas Day through the following week. Those who can help should contact Andy Kasitz, assistant director of resort parks for Kentucky State Parks, at 502-418-3581 or by email at andy.kasitz@ky.gov.

Because all accommodations are needed for those displaced by the tornadoes and for first responders, volunteers will need to make their own arrangements for housing.
Murray-Calloway County Hospital outpatient lab, next to Medical Arts Pharmacy will be able to accept blood donations, starting today 12/13/21 from 7 AM- 4:30 PM